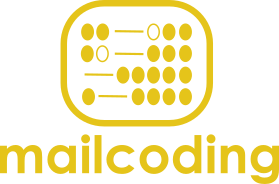 Smart Specialisation Strategy
Leadership in Enabling and Industrial Technologies
Mailcoding is an online service aimed at helping individuals and businesses simplify the communication of their digital identity: with a single number (a mailcode), the user can share a broad range of personal details, such as name, phone numbers, email addresses, social networking accounts, blogs and websites. The sharing of the mailcode number facilitates and simplifies the communication of all such data, especially among people of different languages, eliminating the possibility of misunderstandings such as spelling errors or mistaken identity. The main advantages of Mailcoding are its simplicity and its enormous potential for integration with other services.
The ultimate goal is to be able to share a universally acknowledged number that represents the digital identity of every individual, making connection between people easier.
The service is especially useful for people who need to manage multiple digital accounts, and who need to communicate difficult-to-pronounce names or email addresses safely and quickly. It's also great for people who work abroad, for freelancers who need to share their professional profile, and for companies that need to manage their contact database.
Mailcoding was one of the winners of the Lamarck Prize, awarded during SMAU Bologna 2016.
Details
Contact/Entrepreneur
Alfonso
Venturelli
Consigliere Delegato
Contact Email
info@mailcoding.com
Tags
Address
Via Emilia Ovest
698
41123 Modena (MO)
MO