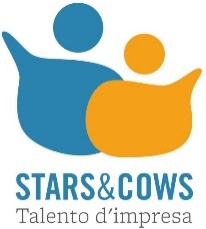 Smart Specialisation Strategy
Stars & Cows is an innovative start-up founded in 2015 with the aim of providing Human Resources and Professional Consulting services to businesses and young people.
Specifically we deal with Research & Selection, Outplacement, Personal Modelling, Accompaniment to Work and Professional Business Advice.
Our most distinguishing feature resides in the fact that, for the provision of the aforementioned services, we avail ourselves of a network of former Senior Managers who have left the labour market early (due to redundancy, early retirement or retirement) and who want to pass the skills acquired during their long careers on to young people.
Another distinctive element of Stars & Cows is the construction of a coworking space in the ceramic district that accommodates Senior Managers, the young talents who want to develop projects, start-ups and local professionals.
Awards and mentions:
Winners of 2010 Imprendocoop 1st Prize 

The project was also discussed at the European Coworking Conference in Milan in November 2015
Details
Contact/Entrepreneur
Marcella
Gubitosa
Vice presidente
Contact Email
info@starsandcows.com
Tags
Address
presso Politecnica, Via Galileo Galilei
220
Modena
MO