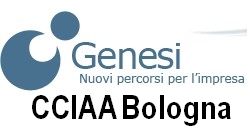 GENESI NEW BUSINESS HELP DESK is a Bologna Chamber of Commerce service created to support those who want to start out on their own but have no clear idea on how to get going.
It provides initial guidelines, information and support at the start-up phase, advising on the choice of legal status and on the subsidies and aid available for new businesses.
Genesi also has a self-learning kit (downloadable from the site) with everything you need to know about how to draft a business plan.
Address
Piazza della Costituzione n.8 – 40128

Bologna
Telephone Number
051 6093485–6093513
Knowledge content specificity
Contacts
genesi@bo.camcom.it