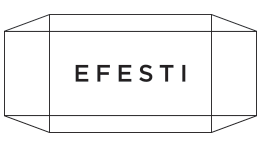 Smart Specialisation Strategy
Leadership in Enabling and Industrial Technologies
Efesti.com is an e-commerce site, but also a magazine, a gallery of virtual boutiques and a window into the world of Italian artistry, craftsmanship and know-how.
Created by a team of young people, all under 35, who bring together disparate experiences - from big fashion brands to joint purchasing groups - Efesti is first and foremost a story: video and virtual tours allow you to experience the artisans' boutiques, accompanying you on a journey of the tools, the knowledge and the creativity of Italian talent. Valuable raw materials that could not be found anywhere else, made available by Efesti, via the internet, to the rest of the world.
An important springboard for many producers of excellence - from fashion design to publishing - held together by the lowest common denominator of culture.
Efesti offers a catalogue of products carefully selected for their craftsmanship, quality and uniqueness, shipped to over 20 countries. Efesti also provides 360° advice and digital services to numerous artisan workshops.
Details
Contact/Entrepreneur
Paolo
Pasquali
Amministratore Unico
Contact Email
info@efesti.com
Tags
Address
Collegio di Spagna
11
Bologna
BO