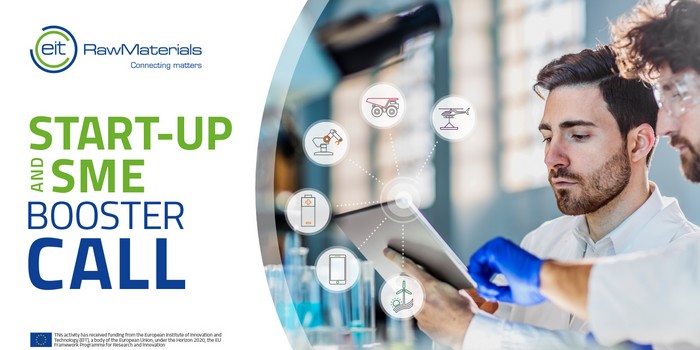 Deadline: 31 March 2018
Booster Call 2018
The "Start-up & SME Booster" is one of the EIT RawMaterials financial instruments dedicated to Start-Ups and SMEs relevant to the raw materials sectors. We are particularly interested in the following thematic areas:
Exploration and raw materials resource assessment
Mining in challenging environments
Increased resource efficiency in mineral and metallurgical processes
Recycling and material chain optimisation for End-of-Life products
Substitution of critical and toxic materials in products and for optimised performance
Design of products and services for the circular economy
We exclude bio-based materials unless they fall under topic 5. Read more on our call page.
Typical projects
Proof of concept or feasibility study to improve the Technology Readiness Level (starting from at least TRL 4)
Customer validation or pilot testing, ideally with our partners. The project should aim at finding potential first adopters.
Expand the market and reach global scale, preferably through business support services provided by the EIT RawMaterials and its partners' network.
Amount of funding
Financial support up to Eur 60.000
Please refer to our Terms & Conditions / FAQ
Timeline
Deadline for application: March, 31st, 2018
Notification for shortlisted: April, 15th, 2018
Pitching sessions: End of April, 2018
Agreement & Project start: From May 2018
Project end: Preferably before end of 2018
Info https://eitrawmaterials.eu/booster-call/