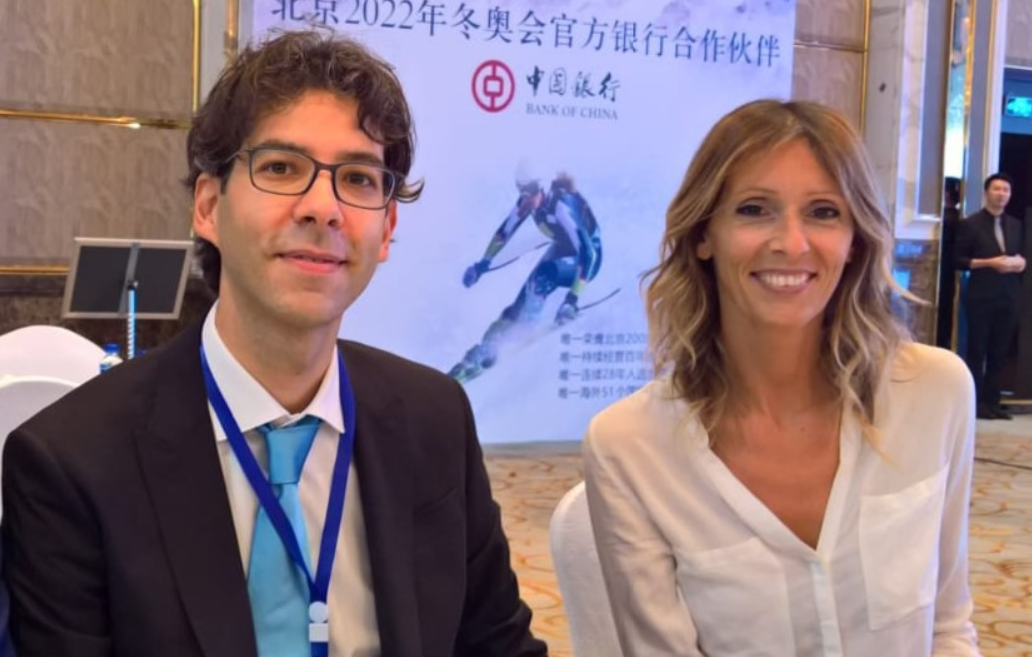 The series Startup in the Net collects interviews done to innovative startups which are part of the EmiliaRomagnaStartUp network and that ART-ER supports in their development process.
---
To describe their speedboat they have introduced a new definition: IcaRoBoat.
Icaro because it flies, Robot because it uses artificial intelligence and Boat because its aim is to innovate the nautical market, one where products that would elsewhere be considered disruptive are very rarely introduced.
When Marco Sgalaberni and his team had to pick a name for their startup, they looked at the latin language.
"Inesse is a verb that indicates the essence of things but also the fact of being on top of something" the entrepreneur specifies "A way of pointing upwards that is symbolised by the barn owl, the bird we used in our logo: an owl that is also a very important nocturnal predator for the ecosystem in which it lives and that for its characteristics represents our lucky charm".
Inesse Corporation's project is a very ambitious one. The startup, founded in 2016, has designed a revolutionary speedboat: thanks to foils technology, the one created for the America's Cup to be clear, the boat has wings underneath its hull which allow the speedboat to elevate above the water level. The category it falls under, would be the daily cruise and, even though it has a "sporty" style, the designers have managed to allocate for plenty of space in this luxury product.
"It's the very futuristic evolution of the hydrofoil and to a non-expert eye could look similar to other speedboats on the market, but that's not the case" Sgalaberni explains "Using a comparison from a different field, it would be as if the hydrofoil was a propeller airplane and the speedboat a jet". The unique characteristics of this 16 meter long vessel, that will touch water in 2020 (finishing touches and furniture all included), are different. "The wings allow for the speedboat to rise approximately 50cm above water: the benefit is that energy usage goes down by 50% since there isn't friction anymore, and performances are high with a speed that is of more than 50 knots" the co-founder tells us "Everything happens in great comfort since, up to a certain level of rough sea, it would like travelling by train: our aim is to be able to place a glass on the table and keep it still even at high speed. What makes us different aren't our wings, a technology that is now quite common, but the use of electronics, which isn't really developed within this field" Sgalaberni adds "The pilot navigates with the support of artificial intelligence that reads each wave to guarantee the safest travel".
Sgalaberni  knows speed very well. He was a mechanical engineer in Ferrari for 13 years and manager within the Formula 1 division, and tells us that the idea of innovating a field that was outside his expertise came up by chance, chatting at a bar: the fact that his background was different, even though he knew very well the technology applied to high speed vehicles, allowed him to think freely and overcome the limitations that those who have always worked on nautical projects might have. 
"When we the idea started to take shape, we immediately reached out to the University of Bologna, in particular to professor Alfredo Liverani, the man who started the nautical department at the Tecnopolo of Ravenna" he continues" Thanks to his know-how we had great support in the very delicate phase that is the prototyping through computer simulation: an actual prototype would be too expensive and you can't really go by trial-and-error in this field".
Inesse Corporation Ltd has a legal headquarter in London but is listed as an innovative startup with high technlogical content with the Camera di Commercio in Bologna: the ideation, research, development and most of all production phases, all take place in Italy. There are in total 8 patents applied to this cutting-edge speedboat that the startup created. The team is made up of five people working full-time and the average age doesn't go beyond 45.
"Eugenio Nisini is the mechanical engineer that made tangible all the technical ideas we came up with over the years" adds Sgalaberni, who is managing director as well as co-founder of Inesse "Federica Cavani on the other hand is partner and manager: she was one of the first people who financially bet on us and over the years she has not only increased her financial support, but also her professional involvement".
All this was possible because the startup met people who believed in the project and in its team.
"When we started to lose hope we received funding from Intesa Sanpaolo, then private investors like Federica Cavani for example, and in March we partnered with a very important company, the Luigi Rossi Luciani S.a.p.a." the startupper clarifies "Nicola Trevisan sits on our board for them: there is a constructive relationship and great trust".
In January 2019 Inesse Corporation won the contest with ART-ER and is now taking part in the acceleration program at the incubator Le Serre di ART-ER.
"It's a wonderful experience" Sgalaberni says "ART-ER introduced us to relevant contacts, professionals and mentors: a network that turned out to be extremely useful as well as offering us a young and stimulating environment to work in, and this can only be a good thing".
In Sgalaberni and his colleagues' future there is more innovation within the nautical field, a market that in a way hasn't been fully examined and has great margins of improvement for those, like them, who have a deep knowledge of the latest technologies.
"Our product will open doors, but this is just the beginning" the entrepreneurs reveals " The market isn't as closed off as some might want us to believe: those who buy are looking for innovation. Inesse will be a workforce where we will approach the nautical market differently, starting from the technology we will use on all boats, not just the luxury ones" he ends with "there is a different way to experience the sea and we will show it".
Find out more about Inesse and check out their profile in our dedicated section "Linked Startups" by clicking on the banner below.
If you want to meet the other startups featured in the series Startup in The Net, check out the 2019 gallery.
Author: Giorgia Olivieri, freelance journalist. Works in business development since 2003 having curated communications projects for Progetti d'Impresa, for BAN Bologna, for the Metropolitan City of Bologna, for Incredibol and for Almacube. She collaborates with ART-ER since 2017 on various projects including StartCup Emilia-Romagna.