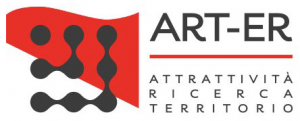 ART-ER Attractiveness Research Territory is the Emilia-Romagna Joint Stock Consortium with the purpose of fostering the region's sustainable growth by developing innovation and knowledge, attractiveness and internationalisation of the region system.
Its partners are the Emilia-Romagna Regional Government, the  regional Universities and the National Research Centre located in the region (the National Research Council-CNR, the Italian National Agency for New Technologies, Energy and Sustainable Economic Development-ENEA, the National Institute for Nuclear Physics-INFN), the Regional Union of Chambers of Commerce, and works in close collaboration with regional Business Associations and Innovation Centres and institutions for the development of the innovation ecosystem of the territory. 
Its mission is to build the Regional Innovation System, by launching shared actions, projects and collaborations for integrated innovation of Industry, Human Capital, Society and Territory, intervening on Growth and Competitiveness, Talent and Entrepreneurship, Cohesion and Participation.
ART-ER Startup Dept. coordinates all the initiatives related to EmiliaRomagnaStartUp .
Address
via Gobetti 101
Bologna
Telephone Number
051 6398099
Knowledge content specificity
Contacts
startup@aster.it
Contacts
info@emiliaromagnastartup.it