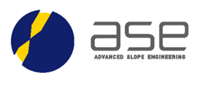 Smart Specialisation Strategy
Leadership in Enabling and Industrial Technologies
ASE s.r.l. researches and markets new technologies aimed at monitoring subsoil, with a focus on engineering problems related to the stability of natural and artificial slopes in soil and rock, as well as civil engineering in general, and the various geotechnical sectors.
The company is involved in various activities: the design, manufacture, installation and management of integrated and modular systems for monitoring subsoil, through the use of innovative technologies and methodologies, developed by members of the team; advanced analysis of landslides using numerical calculation programs, with the aim of verifying the effectiveness of the monitoring systems; as well as the research and development of equipment and monitoring instruments based on the use of emerging technologies. The company ASE s.r.l. was formed in May 2013, following the completion of a SPINNER 2013 project in which it gained funding. It is therefore in its second year of operation.
The MUMS system, designed by Andrea Segalini and created by the company, offers significant advantages in terms of efficiency, reliability, ease of installation and cost compared to all systems offered by the competition:
automated monitoring of subsoil deformations in a three-dimensional field
user-adjustable frequency measures, as required, always updatable, even remotely
simple and quick installation thanks to small size
the collection of data through a proprietary encryption scheme that allows the connection of a series of nodes along a single 4-pole cable
the control unit used for the collection and transmission of data is designed to be installed inside inclinometer pipe
can save data and be configured through SD Card; contains GSM or radio module for possibility of remote transmission
uses a highly innovative sensor: the nodes of the MUMS apparatus have been fully developed (in terms of electronics) by a member of the team and integrate triaxial acceleration sensors, triaxial magnetometric sensors, temperature sensors and, at the moment, piezometric sensors, in a single printed circuit board with extremely compact dimensions (about 25 x 35 x 2 mm)
the MUMS system and its type of installation allow for a high duration in terms of deformation of slope
the company's data processing software, currently under development, will also retrieve readings remotely, manage the records database and perform statistical analysis with automatically updated soil values.
The company is made up of two physical members, Professor Andrea Segalini (PhD in Environmental Engineering Geology) and Dr Luca Chiapponi (PhD in Hydraulic Engineering), who also both serve at the Department of Civil, Environmental, Land Management, Engineering and Architecture at the University of Parma; one industrial partner, GEI s.r.l., represented within ASE by Corrado Carini (graduated in Electronic Engineering at the University of Parma); and one partner university, the University of Parma.
Details
Contact/Entrepreneur
Andrea
Segalini
Direttore Generale
Contact Email
info@aseltd.eu
Address
Campus Universitario - Parco Area delle Scienze
181/a
Parma
PR