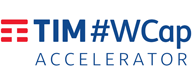 The TIM #WCAP Accelerator is MISE-certified and part of Telecom Italia's open innovation program, which selects, finances and accelerates digital startups.
Through the Call For Ideas, TIM #WCAP helps talented people to transform ideas into market-ready companies, supporting startups directly during launch and development.
The four accelerators in Milan, Bologna, Rome and Catania have become a benchmark in the panorama of Italian innovation.
The Bologna accelerator, located in the heart of the city, was established in January 2014. For the arrival of new teams in November 2015, the space was expanded to its current 1,800 square metres.
Available amenities include:
a meeting and workshop room for up to 22 people
a fully equipped events room for up to 90 people
a networking and relaxation space, with kitchen, bookcrossing corner and table football
a telemarketing and video conferencing room
four meeting brainstorming rooms
5 private boxes
80 coworking workstations
a Smart Working Lab
Address
Via Guglielmo Oberdan 22
Bologna
Telephone Number
051 265678
Knowledge content specificity
Contacts
Marco
Lotito
HEAD TIM #WCAP ACCELERATOR BOLOGNA
marco.lotito@telecomitalia.it
331
6023513