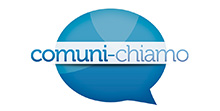 Smart Specialisation Strategy
Leadership in Enabling and Industrial Technologies
Comuni-Chiamo was established in November 2011 with the aim of allowing for better communication between local councils and their constituents. Comuni-Chiamo is a platform that collects communication reports made through traditional channels (phone, mail, in person) as well as through web and smartphones.
The information is processed and provided to councils in order to identify the most relevant and most frequently recurring problems. The management system is based on cooperative logic and facilitates coordination and communication within the council, leading to optimal problem resolution and a strengthening of the communication channel even after reporting. The platform covers both traditional and non-traditional communication channels, is easy to manage and provides statistical support to optimise decision-making.
Today there are around twenty local councils that have decided to use this service, with others in the process of joining.
Comuni-Chiamo is supported by Spinner.
Details
Contact/Entrepreneur
Jason Lawrence
Boon
Co-Founder
Contact Email
info@comuni-chiamo.com
Address
Via San Martino
26/1
Monte San Pietro
BO