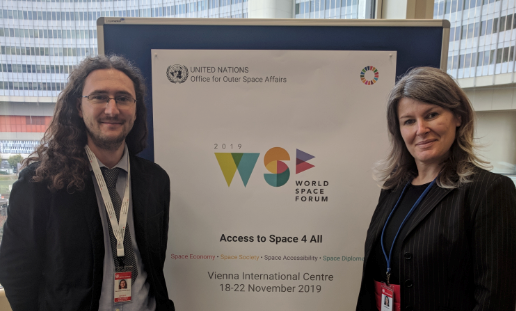 The series Startup in the Net collects interviews done to innovative startups which are part of the EmiliaRomagnaStartUp network and that ART-ER supports in their development process.
---
Everything stemmed by a game.
Who knows if Leonardo Dal Zovo and Angela Corbari, the founders of Studiomapp, told this story at the Pentagon when about about a year ago they won the challenge set by the Department of Defense of the United States with their innovative proposal to improve support operations in case of natural disasters.
Leonardo Dal Zovo is a fan of go, a chinese strategy game similar to chess. Go is very complicated and, even though many scientists and researchers have tried, no machine was ever able to defeat a man in a game, whether instead when it comes to chess this happened already more than twenty years ago. Up until 2016, a turning point for artificial intelligence: a software by Google AlphaGo won against the world's champion of go, the south-korean Lee Sedol. For many of us this piece of news didn't change a thing (at least not so evidently), but if you're an IT expert who ponders about these things all the time, an achievement of this kind opens up a whole new world of possibilities.
"That was the spark that lead me to believe that artificial intelligence could have a positive impact on our lives, aside from entertainment purposes" Dal Zovo reminisces "The ability to solve complex problems could be applied to other fields".
The startup is specialised in the extraction and analysis of pieces of information collected from satellite and drones' images with the purpose of displaying data that can be used for solutions which can improve quality of life through innovation within the fields related to the environment, energy, constructions and infrastructures.
"When a company. an association or a business contacts us because it wants to monitor an area in a certain way, we are able to provide a "turnkey solution" for that request so that the client doesn't need to invest other resources - human and of other nature - into following up on technical aspects" he explains.
If in the team Dal Zovo is in charge of practically dissecting the problem and giving an answer thanks to artificial intelligence, Angela Corbani has the task of translating the client's needs into technology and business terms.
"Angela's skillset is certainly an important asset for the startup" Dal Zovo highlights "Angela graduated in Natural Sciences and has many years of experience as a freelancer in the environmental field. Together we have discovered how satellite images can be a global, updated and certified source of information" the entrepreneur continues "Knowing that there are satellites which go around our planet constantly pushed us to invest on this type of technology focusing on space, one of our passions since we were kids".
This predisposition to looking beyond our earthly borders allowed the Founders of Studiomapp to not limit themselves so much so that the first great achievement was gained on the other side of the ocean.
"I will go as far as saying that very few people in the world are able to analyse satellite images like we do: this is our competitive advantage, an asset that makes it so that we are the only european startup to be recognised as such by the Pentagon" Dal Zovo adds "Having this on our CV has brought in many more important contacts".
A correct use of artifical intelligence allows to save time, which is fundamental when it comes to saving human lives, but also appealing when talking business. Important Italian realities such as Snam, Italferr and Acea understood this and are collaborating with Studiomapp to bring forward innovative esperimental projects which will involve the startup for the next year.
"For us this is a great opportunity because it's not just a simple consultancy, but it's about growing together through a shared process" the startupper clarifies "Asking for us they have shown great trust in us".
Trust that ART-ER had demonstrated from the very early stages of this startup.
"ART-ER was a partner in the coworking space we are based in in Ravenna, called CRE.S.CO, where we took our very first steps as entrepreneurs" Dal Zovo tells us "What made us grow was the Climate-KIC Accelerator program, thanks to which we had the chance to dig deep into everything that has to do with climate change. Being able to monitor from satellites what happens on Earth is fundamental not only for prevention purposes but also from a financial point of view" the experts highlights "We can't think that what is happening doesn't have an impact on the production system".
It's not surprising then that Studiomapp was the only Italian startup called to present its activities to the General United Nations Assemly last september since one of the projects it is developing is contributing to achieving the objectives linked to sustainable development set by the UN in its 2020 Agenda.
"These events not only give us visibility but also the chance to start collaborations and open important relationships" the Co-Founder of this startup, which is also involved with supporting the European Space Agency, tells us "We started four years ago thanks to the support of the European program called FIWARE: we seized all the opportunities we had".
What more can someone who is already in the future aim to? Simply to continue the path they're onto.
"This is a strategic field that will soon blossom and we would most certainly make our skills available for institutions, such as the Emilia-Romagna Data Valley" Dal Zovo tells us "At the end of the day our mission is to show that technology can be good for the environment and society and that this can happen in a financially sustainable manner".
Find out more about Studiomapp and check out their profile in our dedicated section "Linked Startups" by clicking on the banner below.
If you want to meet the other startups featured in the series Startup in The Net, check out the 2019 gallery.
Author: Giorgia Olivieri, freelance journalist. Works in business development since 2003 having curated communications projects for Progetti d'Impresa, for BAN Bologna, for the Metropolitan City of Bologna, for Incredibol and for Almacube. She collaborates with ART-ER since 2017 on various projects including StartCup Emilia-Romagna.