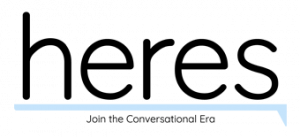 Smart Specialisation Strategy
Leadership in Enabling and Industrial Technologies
Heres is the first Italian company to develop a chatbot platform designed for the Enterprise market.
Our technology is based upon artificial intelligence and machine learning (we use Google's NLP component). It is also open to integration (through API and plug-and-play connectors), allowing not just for simple conversations but also much more complex operations.
The bots allow for conversation through the main interaction channels (Webchat, Messenger, Skype, etc) and can have multiple applications:
24/7 customer support and assistance: for orders, returns, reservations, invoices, etc. The bot is always active, supporting or replacing the Customer Care operator.
Conversational commerce: the bot interacts with users in real-time, accompanying and improving their online shopping experience.
Engagement proactivity: the bot is designed to work with users proactively, proposing promotions on their favourite articles, notifying them when they receive refunds, etc.
Details
Contact/Entrepreneur
Andrea
Gabrielli
CEO
Contact Email
info@heres.ai
Tags
Address
Via Massarenti
90
Bologna
BO
44.494838909289, 11.367287337689