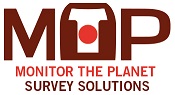 Smart Specialisation Strategy
Monitor the Planet Ltd is an innovative startup that operates in the topography and measurement field  born from the passion for technology and the desire for innovation of Emanuele Dal Monte who, since 2009, has been working as a surveyor, dealing mainly with topography and land registry.
Thanks to the availability of new technologies, the project focuses on the development of customized services for local administrations, state agencies, universities and private clients - services that are of increasing importance to the infrastructure, industrial-nautical, agricultural, architectural and cultural heritage sectors.
With the project "KIT - Geomatic Technologies" (funded by the regional measure for innovative startups - 2018), Monitor the Planet Ltd will use a 2D/3D responsive system to make it possible to made available in the cloud different surveys carried out with cutting edge equipment, and share the results with other technicians and with clients' facilities and offices.
One of the key elements of the project is the use of standard formats for interoperability and visualization of 2D and 3D data, including the standard formats associated with BIM (Building Information Modelling). According with  the development trajectories of the Regional Smart Specialization Strategy regarding the construction sector, Monitor the Planet Srl provides a useful and innovative element in multidisciplinary platforms, particularly in the cultural heritage restoration sector, as it allows different professionals involved in the production and construction process to work on the same files.
Monitor the Planet Ltd therefore intends to develop a sharing platform on which to enhance its service, and distinguish itself from its competitors. The system is characterized by uploading and downloading tools for the main CAD/GIS/BIM formats, with file preview; moreover, through a specialized consulting service, the company will be able to provide a preview and cloud repository service in standard format, providing customized access to clients and planners. The consulting activity is based on  an innovative 2D/3D WebGis service for the expansion and enrichment of company activities.
Details
Contact/Entrepreneur
Emanuele
Dal Monte
Amministratore Unico
Contact Email
info@monitortheplanet.com
Tags
Address
Piazza Martiri della Libertà
7
Faenza
RA