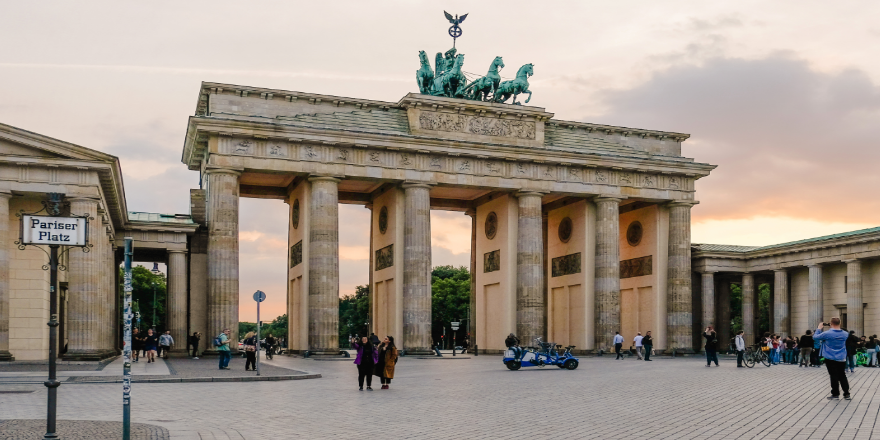 From 27 to 29 April 2022 a group of representatives from Emilia-Romagna will participate at the event
After the successful participation of a representatives from Emilia-Romagna at the twin event in March in Paris, a group of innovative startups, SMEs, incubators, accelerators as well as policy makers  will participate at Smau event in Berlin with the objective to make connections with Berlin ecosystem stakeholders. 
The 6 startups and SMEs participating at the event:
Builti

(sector: building)
Builti offers a software suite and IoT solutions for the rapid assessment of infrastructures and buildings. 
In particular, Builti will present FIBA: their main product for building defectological analysis, and dynamic monitoring of infrastructures that enables infrastructure managers evaluate their assets and organize maintenance making those safer according to several criteria (seismic, static, hydrogeological, climate change). 
Doxee

( sector: Digital communication)
Doxee is a multinational hi-tech company, listed on Euronext Growth Milan and a leading provider of products for Customer Communications Management (CCM), Digital Customer Experience and Paperless.
FLIM LABS

(sector: Photonics)
FLIM LABS is active in the fields of fluorescence lifetime imaging microscopy and spectroscopy. The company has developed portable plug-n-play instruments and AI-driven softwares to simplify and encourage the broadmass-scale adoption of fluorescence lifetime as a key tool from biomedicine to food safety.
Neurality

(sector: Smart Factory)
Neurality has developed an AI platform for product quality control. The company offers a universal system  that is production-ready in seconds. At Smau Berlin, the company will present 2 specific solutions: (1) Raw Material Inline Quality Control - that has already proved efficiency for wood edges, fabric, leather and peanuts - and (2) Product Inline Quality Control that is able to identify any type of defect / anomaly / outlier within product images, without ever having seen any anomalous examples and has already used for customers producing glass vases, wood panels, plastic bottles, zippers, hexagonal nuts, and buttons.
Truescreen

(sector: Digital)
TrueScreen is the only patented Mobile solution allowing to certify all Media content acquired with a Mobile device, preserving its authenticity, tamper-proof and context, thereby granting extreme probative value.
TrueScreen is literally for everyone: the B2C world (non-professional users) and the B2B ecosystem (lawyers, forensic professionals, technical firms, private companies, insurance companies, banks, associations, public administration), so that all can safely manage their entire flow of files.
U&O TECHNOLOGIES

(sector: Health)
U&O Technologies is an Italian MedTech company that designs, manufactures and markets innovative medical exoskeletons.
At Smau Berlin, the company will present two products: UAN.GO innovative exoskeleton  and U.Connect.
UAN.GO innovative exoskeleton  is a robotic exoskeleton for gait rehabilitation. UAN.GO is a medical device designed to perform robotic gait neurorehabilitation in a clinical setting and at home. 
 U.Connect is a communication interface that allows users to consult and manage the clinical data of the UAN.GO device; U.Connect displays times, distances, speeds and many other clinical data
---
At the event, regional  incubators and institutions will also participate: :
Almacube, the innovation hub of the University of Bologna and Confindustria Emilia Area Centro and a business incubator certified by the Italian Ministry of Economic Development. 
BIG BO, the incubator promoted by the Fondazione Cassa di Risparmio in Bologna in collaboration with the Techgarage Association. 
Urban Hub Piacenza, an innovation center with a coworking and an event space, a maker lab for digital manufacturing (including 3D modeling and 3D printing, IoT, robotics and AR), an educational center on tech 4.0, a startup infopoint and finally an incubator and accelerator of tech manufacturing startups.
Tech-Up Accelerator is the internal unit of Fondazione REI specialized on delivering innovation services to companies of the province of Reggio Emilia. This organization has been specializing in technologies for manufacturing, cleantech, and energy transition and carries out open innovation support for corporates and supports the development of innovative startups from both Italy and abroad.
Emilia-Romagna Region International Business Department and ART-ER - Attractiveness Research Territory, the Joint Stock Consortium fostering the region's sustainable growth by developing innovation, knowledge, attractiveness and internationalization.
The event, that will mainly concentrate at eWerk, has the objective to connect Italian innovation champions with companies, investors accelerators and other skateholders based in Berlin for developing business relations and new collaborations.
For further information:
https://www.smau.it/berlin/

international-startup@art-er.it