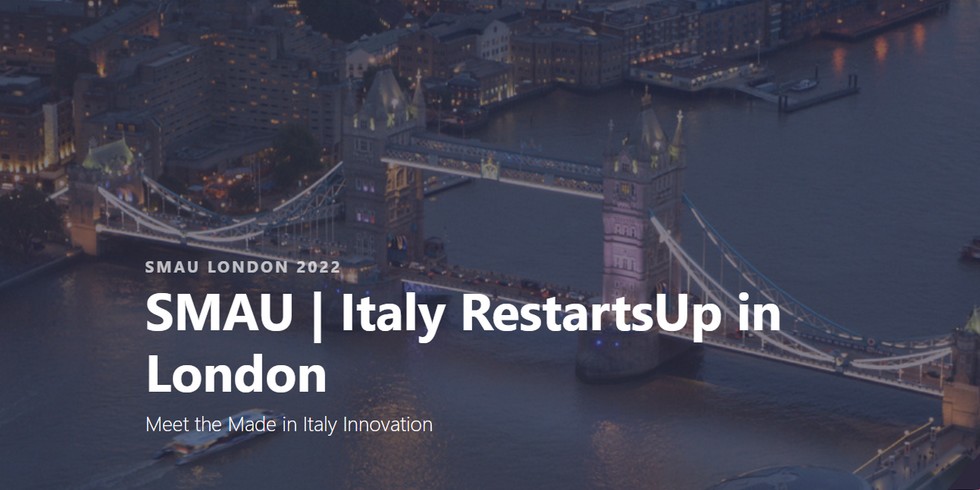 From 25 to 27 May 2022 a group of representatives from Emilia-Romagna will participate at the event 
After the successful participation at the twin events in Paris and Berlin, a group of innovative startups, SMEs, incubators, accelerators as well as policy makers  from Emilia-Romagna will participate at Smau event in London with the objective to make connections with Lodon's ecosystem stakeholders. 
The 5 startups and SMEs participating at the event:
Builti

(sector: Building)
Builti offers a software suite and IoT solutions for the rapid assessment of infrastructures and buildings. 
In particular, Builti will present FIBA: their main product for the analysis of defects in  building, and the dynamic monitoring of infrastructures. It  enables infrastructure managers evaluate their assets and organize maintenance making those safer according to several criteria (seismic, static, hydrogeological, climate change). 
Cloudvision

( sector: Digital)
Cloudvision is an Intelligent Assisted Reality platform that natively incorporates unified communication and artificial intelligence technologies to provide digital and contextualized support to workers in the field, equipped with professional smartglasses or smartphones.
An easy-to-use web interface allows users to create and access virtual rooms, where they can initiate real-time audio / video collaboration sessions with multiple participants, or to create virtual assistants and image recognition algorithms trained according to user needs. 
Mama Science

( sector: Materials)
Mama Science is a company active in the research, production and sale of advanced materials, obtained from proprietary processes inspired by natural ones from which a range of products has been developed. Mama Science produces additives to be applied or mixed up in customers' formulations. Mama Science additives have antibacterial, self-sanitizing and anti-odor properties. They are made of biomaterials  obtained from elements normally present in natural systems that perform their properties thanks to a synergistic effect. There are many applications: food, packaging, wool, metal, fabrics etc.
Mama Science is based i at Le Serre di ART-ER, a business incubator in Bologna.
PIGRO

(sector: Digital)
Organizations invest time and money to create and update valuable contents for supporting their customers and staff. Unfortunately the digital documentation is often long, written in different formats, distributed on several internal services or local disks and consequently it is not easily accessible and searchable.
Pigro solves this problem: it has developed an interface in which it is possible to enter a question in natural language and the system will return a series of portions of text, extracted from the company knowledge, contextual to the question asked. It will then always be possible to go back to the document from which the text was extracted, also indicating the repository in which the file is stored. 
Pikkart

( sector: Digital)
First in Italy to develop its own proprietary software for Augmented Reality, over the years Pikkart has created applications and projects for fields ranging from industry to culture, with important customers such as Barilla, Saipem and Tetra Pak.
The company owns two important patents, Pikkart-AR Logo – an AR software that makes it possible to associate up to a billion different contents to as many copies of the same image, revolutionary for anti-counterfeiting, marketing, and traceability – and Pikkart-AR Discover – the most recent evolution of augmented reality itself, a software able to recognise objects and places in context, and associate pieces of AR content to them thanks to visual recognition.
To date, Pikkart has developed solutions for museums, for remote assistance, for damage detection, for interactive marketing games, for retail, and for events, along with many other custom apps for a number of different clients.
---
At the event, regional  incubators and institutions will also participate: :
Almacube, the innovation hub of the University of Bologna and Confindustria Emilia Area Centro and a business incubator certified by the Italian Ministry of Economic Development. 
BIG BO, the incubator promoted by the Fondazione Cassa di Risparmio in Bologna in collaboration with the Techgarage Association. 
Urban Hub Piacenza, an innovation center with a coworking and an event space, a maker lab for digital manufacturing (including 3D modeling and 3D printing, IoT, robotics and AR), an educational center on tech 4.0, a startup infopoint and finally an incubator and accelerator of tech manufacturing startups.
Emilia-Romagna Region International Business Department and ART-ER - Attractiveness Research Territory, the Joint Stock Consortium fostering the region's sustainable growth by developing innovation, knowledge, attractiveness and internationalization.
The event, that will mainly concentrate at Old Truman Brewery on 26th May 2022, has the objective to connect Italian innovation champions with companies, investors accelerators and other skateholders based in London for developing business relations and new collaborations.
For further information:
https://www.smau.it/berlin/
international-startup@art-er.it