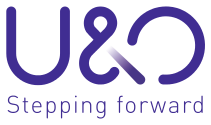 Smart Specialisation Strategy
Leadership in Enabling and Industrial Technologies
U&O is an innovative startup in the biomedical industry.
The main characteristic of the team behind it is a multidisciplinary approach, bringing together technical (mechanical, electronic, computer skills) with application skills (in this case medical); in addition, it's worth noting a strong propensity towards pragmatism and knowledge of the operating environment of a typical startup.
The product U&O is working on is an exoskeleton, a robotic device that can be worn for therapeutic purposes, allowing people with lower limb disabilities to stand and walk. It can also be used as part of an innovative physiotherapy course that's more effective than traditional systems.
Although there are already other exoskeleton models on the market, the U&O exoskeleton has a much lower cost and the same macro functionality as the market leaders, focusing on making the device easy to wear, non-invasive when worn and simple to use.
U&O is establishing a partnership with the University of Parma and is outlining trials with other companies operating in the sector. This has a dual objective: on one hand, we will use the feedback and clinical data collected from the trials to help validate and finalise the product; on the other, we still want to see the product evolve in light of the latest technological and medical research. 
The U&O team consists of:
Gianluca Sesenna. A graduate in Physiotherapy at the University of Parma, with a Master's in Physiotherapy and Respiratory Rehabilitation from the University of Trieste and a specialisation in surface electromyography for rehabilitation applications at the University of Rome biomedical campus. He is currently enrolled in an Executive Master's at the University of Siena in Sports Physiotherapy. He specialises in the functional assessment and rehabilitation of respiratory pathologies, and the evaluation and treatment of musculoskeletal diseases and disorders in sport, with a focus in applying new technologies for rehabilitation purposes.
Andrea Santi. A mechatronics designer, freelance since 2002. He makes use of the most advanced software for monitoring all project phases, from feasibility study to concept, to the development of all of the necessary technical documentation, to the creation of the prototype, of the next product and of the manufacturing process. He has had a remarkable variety of clients that has enabled the acquisition of skills in various fields of heavy and precision mechanics, of machine tools, hydroelectric energy production, packaging, converting, automation and the food industry. This wide range of experience and a natural predisposition for learning has made it possible for Andrea to transfer learned technologies to new contexts.
Mirco Porcari. A graduate in Computer Engineering at the Polytechnic University of Milan and with an International MSc in Digital Communication Systems and Technology from the Chalmers University in Gothenburg, Mirco was among the top 5% of students in both cases. He has international experience in multinational corporations (Ericsson, Siemens), both in R&D with active patents and in front-end roles for Italian and European customers. He was for 9 years a Senior Product Manager at a startup with HQ in Silicon Valley and R&D in Italy and in Europe, which from a small company with few staff has grown to become market leader in mobile cloud applications. He has studied User Experience and Priority Management in detail.
Details
Contact/Entrepreneur
Andrea
Santi
CEO
Contact Email
info@uando.it
Tags
Address
Via Chiaravalle
94
Alseno
PC