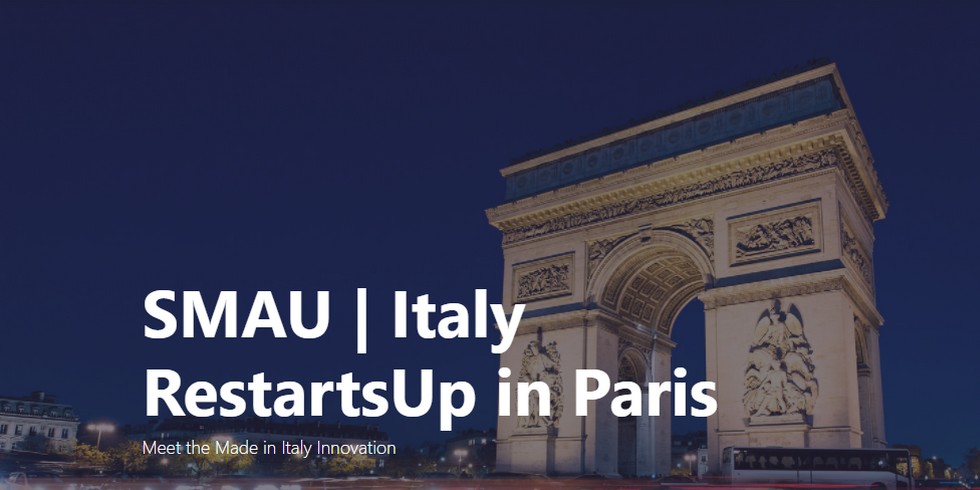 From 23 to 25 March 2022 a group of representatives from Emilia-Romagna will participate at the event
The group will include innovative startups and SMEs, incubators and accelerators as well as policy makers interested in making connections with Paris ecosystem. 
The 6 startups participating at the event:
Axyon AI

( application sector: finance, insurance, energy)
Axyon AI is a fintech company bringing AI-powered predictive value to the investment management industry. 
At Smau Paris, Axyon AI will present 2 products: (1) AI  & Deep Learning for commodity hedging & trading: a decision support tool for the finance and insurance sector and (2) AI for Energy & Utility that helps energy companies take decisions based on forecasts on a cross-section of commodities over different time horizons.
B-Plas

(sector: materials)
B-PLAS designs and manufactures fully automated systems to convert waste sludge into polyhydroxyalkanoate (PHA), a bio-based and biodegradable bioplastic, with reduced environmental impact if compared with currently available technology alternatives.
The applications of B-Plas process are: Agro-industrial sludge, Industrial sludge and Municipal wastewater.
Builti

(sector: building)
Builti offers a software suite and IoT solutions for the rapid assessment of infrastructures and buildings. 
In particular, Builti will present FIBA: their main product for building defectological analysis, and dynamic monitoring of infrastructures that enables infrastructure managers evaluate their assets and organize maintenance making those safer according to several criteria (seismic, static, hydrogeological, climate change). 
MaCh3D

(sector: materials)
MaCh3D moves material testing facility outside laboratories directly to production floors thanks to an extremely compact size hardware, an easier and safer procedure and a cloud for materials' intelligence and data processing. For those transforming raw materials into final products with a single step process, MaCh3D enables easy and accurate Material Testing directly in Industrial production, allowing mechanical properties monitoring and anomalies immediate detection.
NDG Natural Development Group

(sector: agriculture)
NATURAL DEVELOPMENT GROUP® is an International Group specialised in plant nutrition. The company has developed MICROSAP® fertilizers based on  unique formulations obtained from natural extracts and innovative solutions of microelements.
Zero3

(sector: waste to energy)
Zero3 is specialized in waste to energy technologies. In particular, the company has developed a Gas Stabilizer: a machine that improves biogas extraction efficiency enabling  more energy to be generated and at the same time reducing CH4 emissions and odours. 
The gas stabilizer  can be installed in all biogas production plants using any energy source: landfills, anaerobic treatment plants and purifiers. 
---
At the event, regional  incubators and institutions will also participate: :
Almacube, the innovation hub of the University of Bologna and Confindustria Emilia Area Centro and a business incubator certified by the Italian Ministry of Economic Development. 
BIG BO, the incubator promoted by the Fondazione Cassa di Risparmio in Bologna in collaboration with the Techgarage Association. 
Urban Hub Piacenza, an innovation center with a coworking and an event space, a maker lab for digital manufacturing (including 3D modeling and 3D printing, IoT, robotics and AR), an educational center on tech 4.0, a startup infopoint and finally an incubator and accelerator of tech manufacturing startups.
Emilia-Romagna Region International Business Department and ART-ER - Attractiveness Research Territory, the Joint Stock Consortium fostering the region's sustainable growth by developing innovation, knowledge, attractiveness and internationalisation.
The event, that will mainly concentrate at StationF, has the objective to connect Italian innovation champions with companies, investors accelerators and other skateholders based in Paris for developing business relations and new collaborations.
For further information:
international-startup@art-er.it